Explore this list of opportunities from our partners to support your cybersecurity agencies and/or interests. If you have specific questions regarding one of the offerings, please contact them directly by following the link(s) provided with the description(s) below.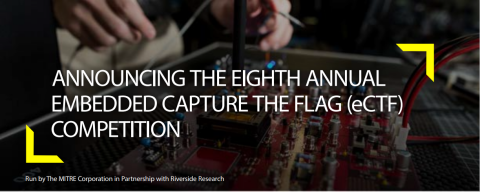 Team registration is now open for the 2023 eCTF at https://forms.office.com/g/rLaXwSBpdk 
Teams will design and implement a key fob system for a car door lock. The system must protect the car from unauthorized entry and prevent attacks like replays and key fob cloning.
The 2023 competition will run from January 18th through April 19th with an award ceremony on April 26th.
For more information or to join the email list, please contact ectf@mitre.org.

The Northeast Collegiate Cyber Defense Competition (NECCDC) is a collegiate cybersecurity competition that tests each team's ability to operate, secure, manage, and maintain a corporate network. This competition creates as closely as possible, a realistic corporate administration and security experience – giving the competitors a chance to compare their education and training against their peers and the real world challenges that await them. The theme of NECCDC 2023 is "Resilient Cloud Infrastructures." 
The Regional Competition is being held Friday, March 10 – Sunday, March 12, 2023 at UMass Lowell.  Visit the NECCDC website for more information on how companies can participate in and support this event.