Welcome!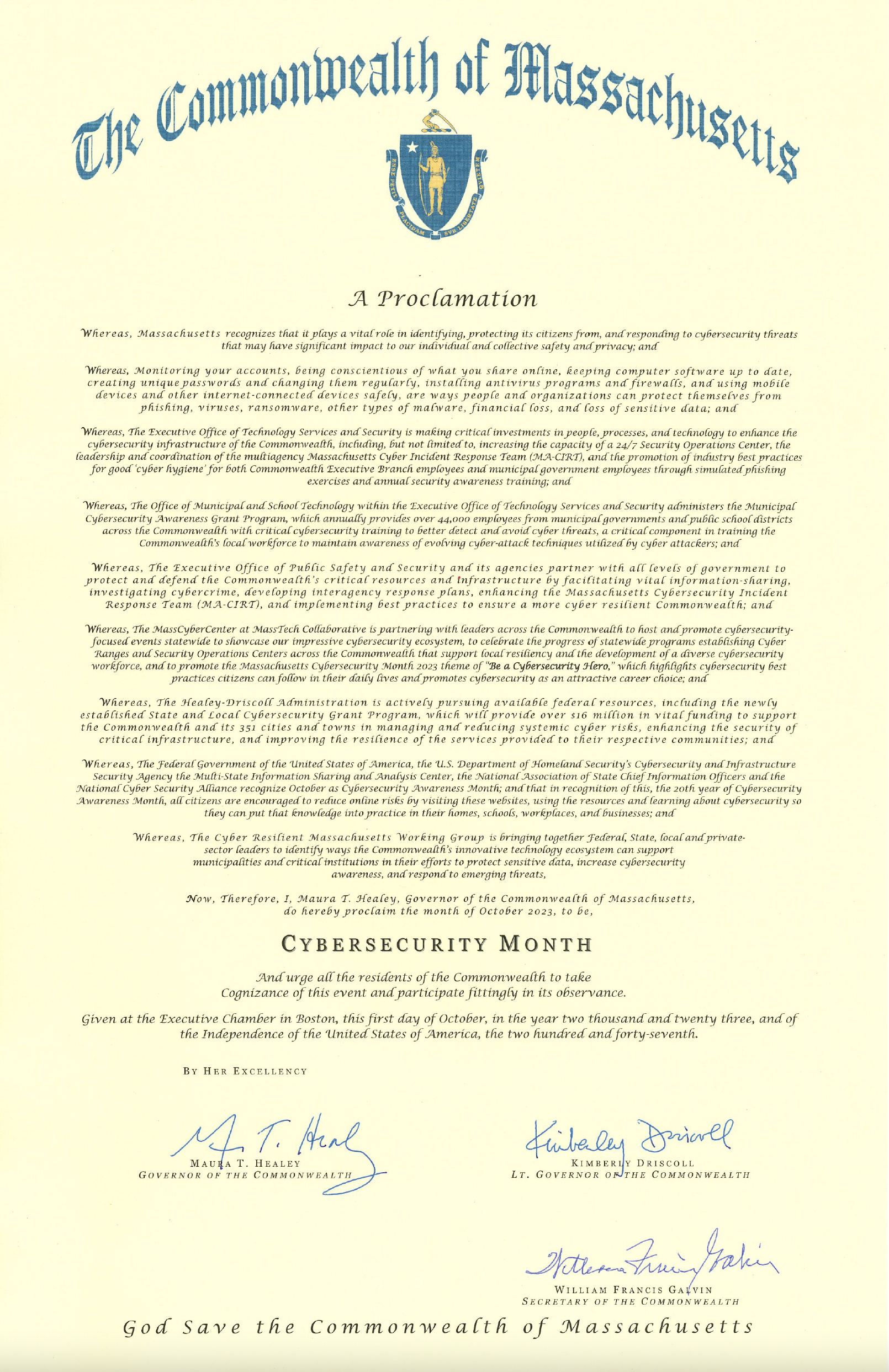 Massachusetts has a vibrant cybersecurity ecosystem that makes the Commonwealth a national cybersecurity leader and enables our citizens and economy to thrive in the face of growing cyber threats. Massachusetts Cybersecurity Month, held concurrently with National Cybersecurity Awareness Month in October, celebrates the cybersecurity ecosystem and highlights its broad membership—educational institutions, businesses, R&D centers, policy leaders, investors, and technology groups.
The theme for this year's Cybersecurity Month is "Be a Cybersecurity Hero," encompassing the importance and value of cybersecurity in everyday life, as well as cybersecurity as an exciting career choice. We can all be cybersecurity heroes by following best practices such as think before you click, report suspicious activity, turn on multifactor authentication, and routinely update software. By doing so, we protect ourselves and our data from hackers and cybercriminals. Learn more HERE about how to be smart and safe online!
Governor Maura Healey formally announced Massachusetts Cybersecurity Month by signing an official proclamation on behalf of the Commonwealth. Read the official proclamation (PDF) HERE or click on the image to the right.
Stakeholder Kit
Get people talking about cybersecurity! DOWNLOAD our stakeholder kit for images and text to share on social media about Massachusetts Cybersecurity Month!
Statewide Events
Throughout Cybersecurity Month, partners are collaborating on events to highlight programs and advance cybersecurity themes and discussions across Massachusetts. Visit our event calendar below to find out more about events taking place across the state during the month of October.


Partner Organizations
---
Below are some of the organizations statewide participating in Massachusetts Cybersecurity Month 2023.