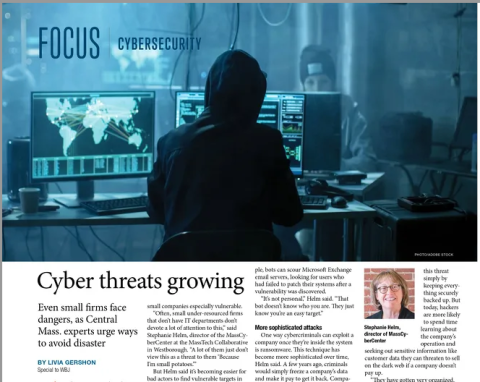 December 15, 2022
Source: Worcester Business Journal
The Worcester Business Journal and reporter Livia Gershon recently covered the cybersecurity threats facing businesses in Central Mass.
The article includes insight from our director Stephanie Helm, who noted how cyber criminals use automated bots to identify vulnerable targets and how networks of bad actors specialize in targeting specific industries.
The piece also includes guidance from several cyber-focused experts in the Commonwealth, such as:
Michelle Drolet, CEO of Framingham's Towerwall, Inc.;
Libis Bueno, CEO of Domitek, Inc. in Worcester; and
Helder Machado, CISSP, LTC USA of Machado Consulting Inc. in Worcester.