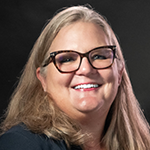 Resiliency Program Manager
MassCyberCenter
speranza@masstech.org
Meg Speranza is the Resiliency Program Manager at the MassCyberCenter at the Massachusetts Technology Collaborative. She is responsible for improving the collaboration, transparency, and effectiveness of the Massachusetts cybersecurity ecosystem in order to foster 'cyber resiliency' across the Commonwealth's key institutions and systems, including municipalities, businesses, critical infrastructure, and non-profit organizations.
She will work with the Center's leaders and advisory boards to develop robust programs that help drive 'Civil Defense for the 21st Century' in the cybersecurity space.
Prior to joining the MassCyberCenter, Meg had a successful 25-year business career in Massachusetts, managing product development for several global high-tech companies, owning and operating a small retail business in Hopkinton, MA, and overseeing educational fundraising before pursuing a career in cybersecurity.
She holds a B.S. in Business Management from Babson College and a Master's degree in Cybersecurity Policy and Governance at Boston College.