The Massachusetts Municipal Cybersecurity Summit is a virtual event created by the MassCyberCenter at the MassTech Collaborative for the Commonwealth's 351 municipalities.
This event is designed to help municipal leaders, first responders, utility providers, and IT personnel improve cybersecurity programs in their city or town. The Summit will be held on Thursday, October 6, 2022 during the first week of Massachusetts Cybersecurity Month, to highlight the importance of local cybersecurity resiliency.
Featuring keynotes from Commonwealth and federal leadership, and sessions to learn about the latest threats and modern security concepts--including zero trust architecture, this event will provide opportunities for collaboration and present guidance and information on resources and programs to help municipalities enhance their cyber-culture, protect against cyberattacks, and improve their cybersecurity resiliency.
Resources
The Minimum Baseline of Cybersecurity is a framework for helping Massachusetts municipalities improve their cybersecurity posture and protect their municipality from cyberattacks using people, process, and technology. Visit this webpage to learn more about the four goals and access additional resources and learning modules.
Minimum Baseline of Cybersecurity 
Agenda
Please click on the image below to view the agenda for the 2022 Massachusetts Municipal Cybersecurity Summit: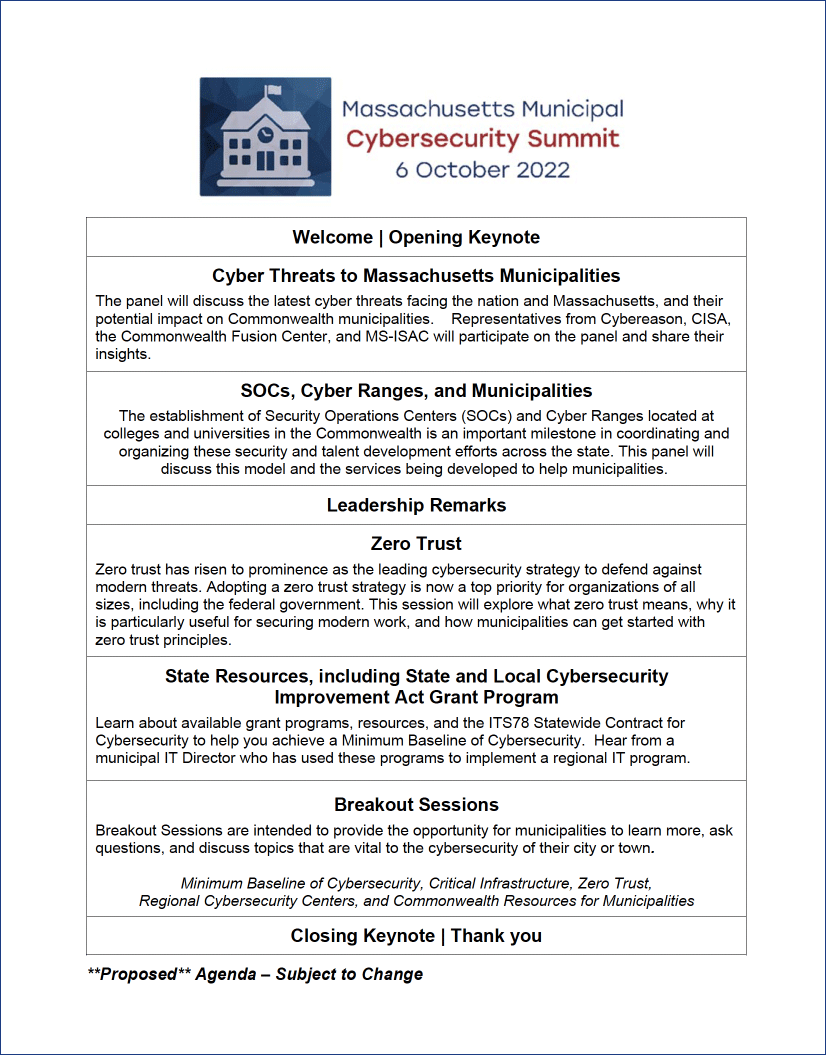 *The event agenda is subject to change. Additional resources will be made available closer to the date of the event.

2021 Municipal Cybersecurity Summit
The first Massachusetts Municipal Cybersecurity Summit, an event for the Commonwealth's 351 municipalities highlighting the importance of local cybersecurity, was held on October 7, 2021.
This event brought together cybersecurity experts from state and federal organizations, and the private sector to give municipalities a better understanding of current cybersecurity issues and practical ideas for improving cybersecurity. More information on last year's summit can be found here.