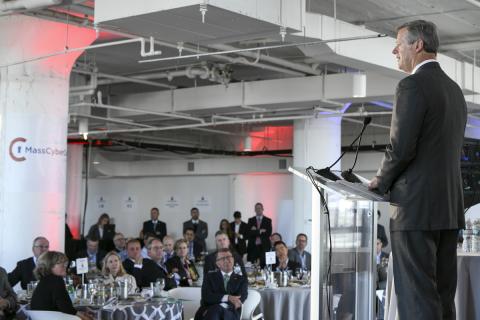 September 27, 2018
Source: MassCyberCenter at MassTech
BOSTON – Governor Charlie Baker addressed the 2018 Massachusetts Cybersecurity Forum and announced new leadership for the MassCyberCenter, awards totaling $385,000 to support cyber workforce development, and a new public-private effort called 'Cyber Resilient Massachusetts.' The Forum convened over 200 top cybersecurity leaders from state government, the private sector and the state's top research institutions.
Governor Baker welcomed U.S. Navy Captain Stephanie A. Helm as the first director of the MassCyberCenter at the Mass Tech Collaborative, a state effort initiated by Governor Baker to strengthen the Commonwealth's cybersecurity ecosystem and to improve cyber-resiliency in the state. The Administration also announced the names of 19 executives that will make up the Cybersecurity Strategy Council.
"The MassCyberCenter and Cybersecurity Strategy Council were created to ensure the state serves as a valuable partner with businesses, colleges and universities, and the public sector to grow Massachusetts' cybersecurity industry and continue developing a talented workforce," said Governor Charlie Baker. "Captain Helm brings nearly 30 years of experience working in the military and across government institutions to form critical partnerships among leading private sector firms, research universities, major R&D centers, and the entrepreneur community. We look forward to the work the MassCyberCenter will do under Captain Helm's leadership, the support and guidance the Council will provide, and the impact that our Cybersecurity Workforce Talent Challenge winners will make in support of the broader strategy to support cybersecurity in the Commonwealth and make Massachusetts' public and private institutions more resilient to cybersecurity attacks."
"Cybersecurity is a crucial issue for Massachusetts employers and municipalities who face cybersecurity threats but sometimes lack the resources to combat them," said Lieutenant Governor Karyn Polito. "Through Captain Helm's leadership, and the work of the Cybersecurity Strategy Council, we can bring to bear the best that the Massachusetts cybersecurity ecosystem has to offer to help these institutions, while also leading conversations on workforce development and business needs with our growing cyber companies."
"The Center will play a central role to help convene discussions within state government, and with our industry and academic partners, helping move forward on a collaborative approach to address the cyber threats we face, " said Captain Helm. "I'm excited to lead this effort on behalf of the Commonwealth and to better prepare the state to manage future cyber threats. Cybersecurity is important for the wellbeing of our communities and I look forward to contributing to this team effort." 
In September 2017, Governor Baker called for the formation of the MassCyberCenter and for the establishment of the Massachusetts Cybersecurity Strategy Council, an advisory panel that will assist the MassCyberCenter on ways to spur economic growth and cyber-resilience in the Commonwealth's cybersecurity ecosystem.
The Cybersecurity Strategy Council will be chaired by Michael Brown, Rear Admiral, U.S. Navy (retired) and the former director for cybersecurity coordination in the National Protection and Programs Directorate of the federal Department of Homeland Security, and who now serves as president of Spinnaker Security LLC. 
"Captain Helm  has the professional temperament and credibility within cybersecurity to 'connect the dots' and help synchronize the extraordinary efforts of the Commonwealth's rich ecosystem of individuals and enterprises that secure our cybersecurity infrastructure and to grow the number of cybersecurity firms across the Commonwealth," said Rear Admiral Brown. "The members that make up the Council show both the level of cybersecurity talent here in Massachusetts, but also the importance of this issue to organizations across the state. I look forward to working with Captain Helm and the Council to develop programs that keep Massachusetts at the forefront of the global cybersecurity economy."
The 2017 Cybersecurity Forum highlighted the need to address the talent gap that exists in the cybersecurity sector statewide. Research commissioned by the MassCyberCenter showed that there were 9,000 open cybersecurity jobs in the Commonwealth in 2017, underscoring the importance of the program launched this past summer to address the gap, called the Massachusetts Cybersecurity Workforce Talent Challenge.
During his remarks today, Governor Baker announced that three projects will receive a total of $385,868 in Challenge grants to pilot efforts to prepare entry-level cybersecurity job seekers to meet the needs of Massachusetts employers and address the growing cybersecurity job crisis.
The three awardees are located across the state – from Western Massachusetts to MetroWest Boston to Southeastern Massachusetts – highlighting the demand for cybersecurity jobs that exists statewide:
Bay Path University - Longmeadow, Mass. - "Engaging Student Interns in Cybersecurity Audits with Smaller Supply Chain" - $250,000: Bay Path, a university in western Massachusetts, will lead a project that will engage thirty undergrad and graduate cybersecurity students, primarily women, in a full year of challenging experiences as paid interns on cybersecurity teams that will provide cyber audits at reduced costs for small- to mid-sized companies.
STEMatch - Wellesley, Mass. -  "Securing Leadership in Cybersecurity for the Commonwealth (SLICC)" - $61,178: STEMatch proposes a unique and creative collaboration between community colleges, Mass.-based cybersecurity service and technology providers, and end-user businesses to expand the pool of potential cybersecurity candidates to underrepresented groups and displaced workers, ensure that community college programs can deliver successful entry-level security professionals at scale, and maximize efficiency and effectiveness in job placement of educated students.
MassHire Greater New Bedford Workforce Board - New Bedford, Mass. - "South East Cyber Sec" -$74,690: A public-private partnership between the regional workforce boards of Southeastern Massachusetts, Bristol Community College, the South Coast Chamber of Commerce, and employers such as Hub Tech, Inc. This pilot will help address the lack of skills and work experiences affecting Massachusetts employers and will utilize best practices developed in Israel, programs such as the Rashi Foundation's Magshimim program, which create training and work experiences for students in grades 10-12. The "South East Cyber Sec" project aims to identify 20 talented high school juniors and seniors from Southeastern Massachusetts and shepherd them through a 15-month cybersecurity program.
The Governor also announced a new commitment by the Commonwealth to bolster 'cyber resiliency' through a working group led by the MassCyberCenter at MassTech. On the public sector side, the working group will assess working relationships and collaboration between public agencies on cybersecurity. The Governor also solicited input from cybersecurity and private sector leaders to engage with and provide feedback to the new resiliency effort, noting that "cybersecurity is everyone's business."
The new working group will be led by Capt. Helm. Helm stressed the importance of the new working group and the need to identify ways to better protect the Commonwealth's critical assets.
In addition to announcing the Workforce Challenge grants and cyber resiliency working group, Governor Baker also highlighted the Commonwealth's work on the Cybersecurity Education and Training Consortium, a project spearheaded by the Advanced Cyber Security Center (ACSC) and the University of Massachusetts. The Commonwealth is also playing a role in ACSC's hands-on training exercises, including a recent day-long tabletop cyber simulation, a project developed ACSC's industry members and the U.S. Department of Homeland Security focused on incident response and collaborative defense.
The 2018 Massachusetts Cybersecurity Forum was convened by the Commonwealth of Massachusetts to bring together hundreds of cybersecurity-focused executives from around Massachusetts, including growing startups, executives from leading industries, and top researchers from world-class research centers across Massachusetts. The half-day event focused on the theme "Extreme Collaboration" and was organized by the MassCyberCenter at MassTech. The Forum included cross-sector roundtables featuring Massachusetts thought leaders discussing critical topics including Collaborative Defense, Cybersecurity Product and Technology Development, R&D Opportunities, Bridging the Cybersecurity Talent Gap, and The Cost of Resilience.
More information on the MassCyberCenter can be found at www.masscybercenter.org.
###
Massachusetts Cybersecurity Strategy Council Members
Michael Brown, Rear Admiral, U.S. Navy (retired); President, Spinnaker Security LLC - Council Chair;
Maria Cirino, Co-Founder & Managing Partner, .406 Ventures;
Trish Cotter, Executive Director, Martin Trust Center for MIT Entrepreneurship, Massachusetts Institute of Technology;
Ernesto DiGiambattista, Founder and Chief Executive Officer, Cybric;
Lior Div, Chief Executive Officer and Co-Founder, Cybereason;
Michael Fanning, Head of MassMutual U.S., MassMutual Life Insurance Company;
Katherine Kountze, Senior Vice President and Chief Information Officer, Eversource Energy;
Maria Kussmaul, Co-Founder and Partner, AGC Partners;
Laurie Leshin, Ph.D., President, Worcester Polytechnic Institute;
Anne Margulies, Vice President and Chief Information Officer, Harvard University;
Udi Mokady, Founder, Chairman, and Chief Executive Officer, CyberArk Software;
Jacqueline Moloney, Ed.D., Chancellor, University of Massachusetts Lowell;
Kenneth Montgomery, First Vice President & Chief Operating Officer, Federal Reserve Bank of Boston;
Zorica Pantic, Ph.D., President, Wentworth Institute of Technology;
Peter Sherlock, Senior Vice President and Chief Operating Officer, The MITRE Corporation;
Kumble Subbaswamy, Ph.D., Chancellor, University of Massachusetts Amherst;
Corey Thomas, President and Chief Executive Officer, Rapid7;
David Wajsgras, Vice President, President of Intelligence, Information and Services, Raytheon Company;
Marc Zissman, Ph.D., Associate Head, Cyber Security & Information Sciences Division, Lincoln Laboratory, Massachusetts Institute of Technology.
For more information on the Commonwealth's cybersecurity sector, visit masstech.org/why-massachusetts/ensuring-global-leadership-cybersecurity. 
###
About Captain Stephanie A. Helm, Ret.
A career U.S. Navy officer, CAPT Helm has deep expertise developed through senior leadership roles over her nearly 30 year career as cryptologic/information warfare officer, roles which included positions where she oversaw long-term program development and time-sensitive operations.
Most recently, Helm served as a consultant with the Naval War College in Newport, R.I., providing subject matter expertise in the area of cyberspace, space, and information operations. Her work with the College focused on supporting war gaming efforts in a new warfare environment, namely cyberspace operations, which helped naval personnel learn to work in dynamic organizations and with new warfighting techniques. In addition to her consulting role,
Helm also served as adjunct faculty, including as Professor of Information Operations, Strategic Communication, and Cybersecurity electives since 2010.  While on active duty, she was a military professor from 2006-2009, where she wrote and taught the College's "Fundamentals of Information Operations" elective course.
During her Navy career, CAPT Helm held numerous leadership roles which focused on cyberspace operations and information operations, including as Deputy Division Director, Chief of Naval Operations (N3IO) in Washington, D.C., where she directed development of strategy and policy for Information Operations and Strategic Communication. In that role, she was called upon to represent Navy issues to other military branches, the Joint Staff, and the staff of the Office of the Secretary of Defense, and she coordinated the Navy's input to the 2003 Department of Defense Information Operations Roadmap. CAPT Helm also served a tour at sea from 2001-2003, serving as the Deputy J2/J39 for the Commander, Second Fleet/Striking Fleet Atlantic, a role which ensured that the Fleet's Intelligence and Information Operations functions were executed in support of national security tasking, a critical focus following the attacks of September 11, 2001.
CAPT Helm also served as the Commanding Officer of Naval Security Group Activity in Norfolk, VA, where she led over 300 sailors, officers, and civilians.  She served tours of duty with U.S. Central Command in Tampa, FL, the National Security Agency in Ft. Meade, MD, and Naval Security Group commands in California, Italy, and Maine.
She received her B.A. from the University of California and her Masters from the U.S. Naval War College, as well as additional training at the Armed Forces Staff College (Norfolk, VA).
###
About MassTech
The Massachusetts Technology Collaborative is an innovative public agency working to enhance economic growth, accelerate technology use and adoption, and harness the value of research by engaging in meaningful collaborations across academia, industry, and government. From improving our health care systems and expanding high-speed internet across the state to fostering emerging industry clusters, MassTech is driving innovation and supporting a vibrant economy across the Commonwealth. Visit masstech.org to learn more.