Congratulations to the 41 students accepted into the Cybersecurity Mentorship Program for spring 2022!
Forty-one (41) new students were accepted into the program, bringing the total number of students supported through the four cycles of the program to 101.
The students in the current session represent 18 Massachusetts two- and four-year higher education institutions, with six new schools represented.
A major 'thank you!' to the 41 mentors participating this session, including 10 new companies that have stepped up: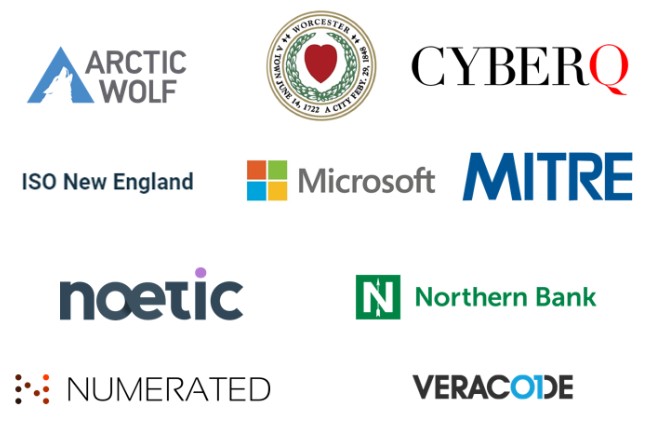 Below is the full list of the 41students and the professional mentors they were matched with:
 
Student
College/University
Mentor
Job Title
Company
Mohamed Abougalala
Northeastern University
Jason Johnson
Security Solutions Architect
Mass Mutual
Loren Almeida
Bunker Hill Community College
Marc Zissman
Associate Head, Cyber Security and Information Sciences Division
MIT Lincoln Laboratory
Janet Alvarado
Fitchburg State University
Allan Rogers
Chief Product Officer
Noetic Cyber, Inc
Chas Azubuike
University of Massachusetts Boston
Donato Kava
Associate Staff
MIT Lincoln Laboratory
Beth Bartus
Mount Wachusett Community College
Brendon Chetwynd
Technical Staff
MIT Lincoln Laboratory
Junior Boderebe
Quinsigamond Community College
Suzanne Zarges
Cybersecurity Training Specialist
City of Worcester
Nicole Carron
Bay Path University
Fabio Martins
Information Security Officer
Mass General Brigham
Francisco Contreras
Massachusetts Bay Community College

Ryan Burrow
Pronouns: he/him or they/them

Associate Technical Staff
MIT Lincoln Laboratory
Huy Dai
Massachusetts Institute of Technology
Richard Walzer
Chief Information Security Officer
Clean Harbors Inc.
Chase Davis
Springfield Technical Community College
Raj Sharma
VP Information Security
Northern Bank & Trust Company
Junior Diaz
Bunker Hill Community College
Sathishkumar Harikesavan
Sr. Software Engineer
Microsoft
Lyly Dixson
Springfield Technical Community College
Maggie MacAlpine
Security Strategist/Chief of Staff to the CSO
Cybereason
Sona Gupta
University of Massachusetts Lowell
Gerald Gagne
Principal
Wolf & Company, P.C.
Kathleen Hablutzel
Smith College
Anne Coulombe
Head of Data Cyber Security
MassMutual
Mahlet Hadgu
Bunker Hill Community College
Mike Wells
Director of Technology
Town & Schools of Westford, MA
Remi Harrison
Massachusetts Institute of Technology
Mark Keating
Sr. Presales Systems Engineer
Arctic Wolf Networks
Md Hussain
Pronouns: he/him
Bunker Hill Community College
Andrew McDonald
Security Architect
Cisco
Emma Jung
Massachusetts Institute of Technology
John McKenna
President & CISO Chair   (Retired- Global CISO at Liberty Mutual Insurance Company)
Advanced Cyber Security Center
Arjun Khadka
Bunker Hill Community College

Jonathan Kamens
Pronouns: he/his

CISO
Numerated Growth Technologies
Spencer Kilgrew
Bristol Community College
Jason Leduc
Manager, Cyber Security
ISO New England
Zlatan Knezevic
Quincy College
Daniel Rasmussen
CTO
CyberQ Technologies
Ryan Kuczer
Bridgewater State University
Ethan Ben-Joseph
Security Services Manager
CyberArk
Isa Liggans
Massachusetts Institute of Technology
Steven Morin
Senior Software Engineer
Microsoft
Melanie Lin
Massachusetts Institute of Technology
Sean Goodwin
Manager - IT Assurance
Wolf & Company, P.C.
Jose Lizasuain
University of Massachusetts Boston
Richard Skowyra
Technical Staff
MIT Lincoln Laboratory
Dario Lopes
Bunker Hill Community College
Jack Bonner
Sr Principal Cyber Security Engineer
MITRE
Erin Lovell
Tufts University

Meghan Martinez
Pronouns: she/her

Digital Forensics and Incident Response Lead
MassMutual
Justin Marwad
University of Massachusetts Lowell
Nathan Walzer
Cybersecurity Engineer
MITRE
Donlop Munnings
Quincy College
Chris Schwarzer
Security Architect
athenahealth
Johnny Nguyen
Springfield Technical Community College
Erik Burns
Product Manager
Rapid7
Kim Nguyen
Tufts University
Dennis Ross
Associate Group Leader
MIT Lincoln Laboratory
Danesia Patterson
Tufts University
Jeffrey Gottschalk
Pronouns: he/him/their
Assistant Division Head, Cyber
MIT Lincoln Laboratory
Ayyappan Rajesh
University of Massachusetts Dartmouth
Sam Curry
Chief Security Officer
Cybereason
Paulette Schmidt
Massachusetts Bay Community College
Lodrina Cherne
Principal Security Advocate
Cybereason
Aymaan Shaikh
University of Massachusetts Amherst
Gabriel Torres
Associate Member of Technical Staff
MIT Lincoln Lab
Hamid Talibi
Bunker Hill Community College
Lloyd Evans
Principal Information Systems Security Officer
Aquia, Inc
Vien Tran
University of Massachusetts Lowell
Brandan Keavney
Chief Executive and Principal Consultant
Data Ethics LLC
Gudeta Tura
Bunker Hill Community College
Clark Cone
Privileged Access Management Team Lead
MassMutual
Alish Uprety
University of Massachusetts Boston
Chris Frappier
Sr. CSM, Technical Team Lead
Armis
Shih-Yu Wang
Massachusetts Institute of Technology
Jared Carlson
Applied Research Manager
Veracode
Dennis Zhen
University of Massachusetts Amherst
John Danahey
Managing Partner - Systems Engineering
Digital Tech Partners, Inc.
You can read all about the new program launch in the press release on our website.