October 04, 2022
Source: MassCyberCenter
In Video Message and Official Proclamation, Governor Baker Highlights Importance of Cybersecurity Statewide
MassCyberCenter Hosts Municipal Cyber Summit on October 6th
Cyber Month Calendar Spotlights Events Happening throughout October, Focused on Resiliency, Talent Development, & Boosting Local Cyber Startups
BOSTON, MASS. – The Commonwealth of Massachusetts has officially declared October as 'Massachusetts Cybersecurity Month,' issuing an official proclamation signed by Governor Charlie Baker and Lt. Governor Karyn Polito. Governor Baker also taped a video message to celebrate the Month, and spotlighted the importance of cybersecurity to "citizens and communities throughout Massachusetts…businesses, schools, government agencies, and so many more organizations" that rely on safe and secure connections.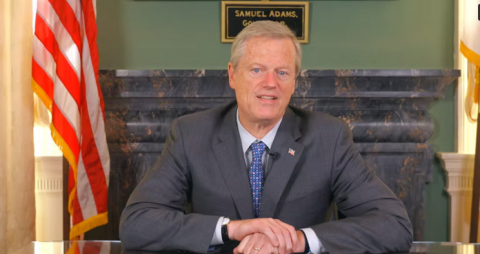 If you're interested in highlighting Cybersecurity Month to your audience, MassCyberCenter director Stephanie Helm is available throughout the month of October to highlight cybersecurity tips, resources, and best practices that can be used by citizens, small business owners, and municipal officials to help protect their digital infrastructure.
This year's theme for Massachusetts Cyber Month is "Advance. Include. Secure," which recognizes the public- and private-sector efforts to advance an inclusive and cyber-secure Commonwealth. The statewide events coincide with the national Cybersecurity Awareness Month managed by the federal Cybersecurity & Infrastructure Security Agency (CISA), which features prominently in the resource guides published by the MassCyberCenter.
Below are several of the programs launched to promote Massachusetts Cybersecurity Month 2022:
An interactive calendar for Mass Cyber Month highlights the many cybersecurity events happening across the state, including those hosted by the Center, plus sessions hosted by leading banks, universities, and VC firms in the state.
MassCyberCenter created a public awareness campaign called "Life's Work on the Go," which provides helpful tips and resources citizens can use to secure their digital information, particularly for people that work from mobile devices or home. To learn more about the campaign, residents can also download this overview (PDF).
For the second year, the Center will host the Massachusetts Municipal Cybersecurity Summit on Thursday, October 6th, which will bring together a mix of public officials and other stakeholders from the Commonwealth's 351 municipalities, including town administrators, IT personnel, first responders, utility providers, and public safety officials. Interested public officials can register via EventBrite. Press interested in attending can email noyes@masstech.org for details.
In Western Mass, Bay Path University hosts their 10th Cybersecurity Summit on Friday, October 7th, a hybrid event that will tackle "The Evolution of Cyber Supply Chain Attacks & The Role of Data Science." The event will feature a keynote from Ariel Weintraub, Chief Information Security Officer (CISO) and Head of Enterprise Cyber Security at Springfield-based MassMutual. Register via Bay Path's online Google form.
Main Street Bank hosts a Cyber Security panel and networking event on October 12th in Boxborough, Mass., which will feature remarks from MassCyberCenter Director Stephanie Helm and a panel of local experts on the many aspects of cybersecurity and the impact to business. Details on Main Street Bank's website.
The Advanced Cybersecurity Center (ACSC), Massachusetts eHealth Institute (MeHI), and the MassCyberCenter host their monthly health care provider cybersecurity Zoom call on October 13th, which will feature representatives of the U.S. Department of Homeland Security, the Massachusetts State Police, and the Commonwealth Fusion Center to provide updates on recent cyber threats and trends. As part of Cybersecurity Month, the October meeting will also feature a discussion on cybersecurity threat sharing moderated by the ACSC.
The fifth cohort of the Cybersecurity Mentorship Program kicks off in October. In support of the Program, the MassCyberCenter has organized a panel discussion on October 21st to provide students and job seekers with an overview of how to build a resume for cybersecurity employment.  Register here for the event. 
The 6th Massachusetts Cybersecurity Forum will take place on October 27th at Bridgewater State University in Southeastern Massachusetts. As with the 2021 Forum, this year's event will feature remarks from business and university leaders, plus top federal and state officials, all focused on topics critical to the future growth of the cyber sector in the state and municipal cyber resiliency.  In addition to keynote addresses by federal and state leadership, there will be a session focused on CyberTrust Massachusetts, a new initiative to support municipal resiliency and grow and promote the diversity of the cybersecurity talent pipeline, and a session on "Cyber by Design: Embedding Resiliency in Future Manufacturing." This is an invite-only event and interested media can email noyes@masstech.org to register.
For more details or to discover other events happening during Cybersecurity Month, visit https://masscybercenter.org/.
###
About the MassCyberCenter
The MassCyberCenter was launched in September 2017 with a vision to enhance opportunities for the Massachusetts cybersecurity ecosystem to compete as the national cybersecurity leader while strengthening the resiliency of the Commonwealth's public and private communities. Learn more at masscybercenter.org.
###
Media Contact:
Brian Noyes, MassTech Collaborative/MassCyberCenter